1. Elvi's Kitchen
Nestled in the heart of San Pedro, Elvi's Kitchen stands as a testament to Belize's rich culinary heritage. Established decades ago, this restaurant has grown from a modest eatery to a must-visit dining destination for both locals and tourists alike.
Authentic Belizean Flavors
Elvi's Kitchen prides itself on its commitment to authenticity. Their menu is a delightful journey through Belize's culinary traditions.
The fry jacks, a local breakfast favorite, are light, airy, and perfect when paired with their homemade jams or beans. The stewed chicken, marinated in a blend of local spices and slow-cooked to perfection, is a comforting dish that evokes nostalgia for many Belizeans.
For those looking to venture beyond the classics, Elvi's offers dishes like panades and escabeche. Panades, fried cornmeal dumplings filled with either chicken or fish, are a treat for the senses, while escabeche, a pickled fish dish, offers a tangy and spicy kick.
A Homely Ambiance
The ambiance at Elvi's Kitchen is designed to make you feel at home. The decor is a blend of traditional Belizean elements with modern touches.
Wooden tables, colorful tablecloths, and warm lighting create a cozy atmosphere. The open kitchen allows diners to catch a glimpse of the chefs in action, adding to the restaurant's charm.
Whether you're planning a romantic dinner or a gathering with family and friends, Elvi's ensures a memorable experience.
2. Hidden Treasure Restaurant & Lounge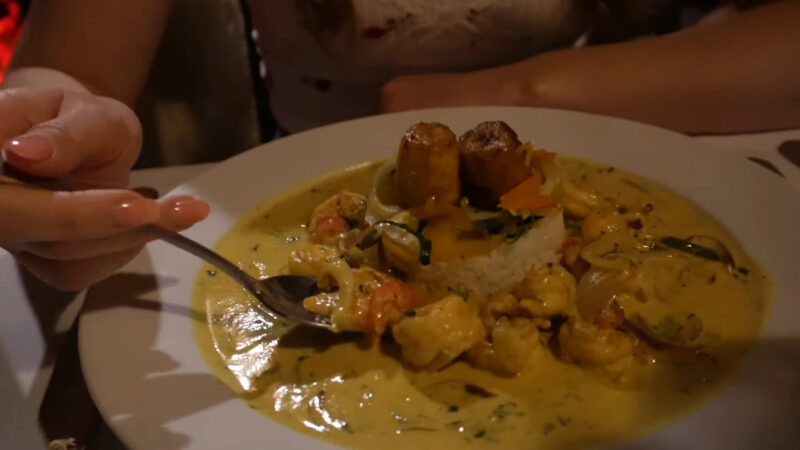 Tucked away from the bustling streets of San Pedro, Hidden Treasure Restaurant & Lounge truly lives up to its name. This restaurant is a sanctuary for those seeking a unique dining experience, away from the usual tourist spots.
A Melange of Flavors Hidden
Treasure's menu is a harmonious blend of Belize's abundant seafood and international favorites. Freshly caught lobsters, snappers, and groupers feature prominently, prepared in a variety of styles to suit every palate.
From the traditional Belizean grilled fish to the more exotic seafood pasta, there's a dish for every seafood lover. For those not in the mood for seafood, the restaurant also offers a selection of steaks, pasta, and vegetarian dishes, ensuring a comprehensive dining experience.
Dine with a View
One of the standout features of Hidden Treasure is its location. Overlooking the pristine waters of the Caribbean Sea, diners are treated to a mesmerizing view.
The outdoor seating area, surrounded by lush greenery and the gentle sound of waves, adds to the restaurant's allure. As the sun sets, the place transforms into a romantic haven, with soft lighting and the stars above.
Whether you're celebrating a special occasion or just looking for a serene dining spot, Hidden Treasure promises an experience like no other.
3. Caramba Restaurant & Bar
Located in the bustling heart of San Pedro, Caramba Restaurant & Bar is a lively spot that captures the essence of the Caribbean spirit. With its colorful decor, upbeat music, and friendly staff, it's no wonder Caramba is a favorite among both locals and tourists.
A Culinary Fusion
Caramba's menu is a delightful blend of Mexican zest and Belizean authenticity. From spicy enchiladas and tangy tacos to Belizean classics like grilled snapper and coconut shrimp, every dish is a celebration of flavors.
Using fresh, locally sourced ingredients, the chefs at Caramba craft dishes that are both delicious and visually appealing. For those with a penchant for spice, the restaurant offers a variety of hot sauces and condiments, allowing diners to customize their dishes to their liking.
Cheers to Good Times
No evening at Caramba is complete without a visit to their full-service bar. With an extensive selection of cocktails, beers, and spirits, there's a drink for every mood.
Whether you're in the mood for a classic margarita, a refreshing mojito, or a local Belikin beer, the bartenders at Caramba ensure your glass is always full. The vibrant atmosphere, combined with their signature drinks, guarantees a spirited evening filled with laughter and memories.
4. Tiki Maya Bar & Grill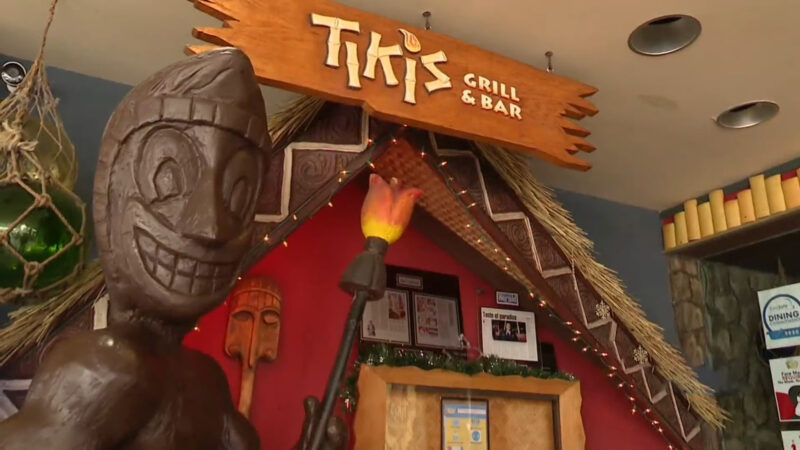 Nestled on the shores of San Pedro, Tiki Maya Bar & Grill offers diners a unique opportunity to delve into the rich culinary traditions of the ancient Mayan civilization. With its rustic charm and serene ambiance, Maya Grill is a haven for those seeking a dining experience that's both authentic and memorable.
Savoring Ancient Recipes
The menu is a tribute to the age-old recipes of the Mayan people. Ceviche, a dish made from fresh fish cured in citrus juices and mixed with tomatoes, onions, and cilantro, is a refreshing appetizer that sets the tone for the meal.
The cochinita pibil, a slow-roasted pork marinated in achiote and citrus, is a testament to the intricate flavors and techniques of Mayan cooking. Each dish, meticulously prepared, offers a glimpse into the rich history and culture of the Mayans.
Using traditional ingredients and methods, the chefs at Tiki Maya Bar & Grill ensure that every bite is a journey through time.
Dining Under the Stars
One of the standout features of Maya Grill is its traditional thatched-roof structure. Offering panoramic views of the Caribbean Sea, the restaurant provides an unparalleled dining experience.
As the sun sets, the gentle glow of lanterns, combined with the sound of waves and the cool sea breeze, creates a magical atmosphere. Whether you're seated indoors or on the outdoor patio, the mesmerizing sea views add to the overall charm of the place.
At Maya Grill, it's not just about the food; it's about reliving a rich cultural heritage while enjoying the natural beauty of San Pedro.
5. Mesa Bistro San Pedro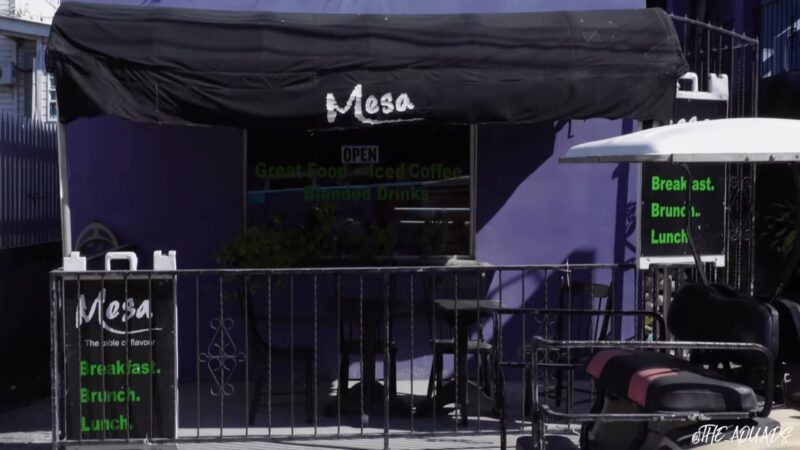 Situated in the heart of San Pedro, Mesa Bistro is a beacon of sophistication and culinary innovation. With its chic interiors, ambient lighting, and impeccable service, the restaurant offers a dining experience that's both luxurious and intimate.
A Culinary Tapestry
Mesa Bistro's menu is a curated blend of international gourmet dishes and Belizean specialties. From succulent steaks and fresh seafood to traditional Belizean stews, the culinary team crafts each dish with precision and flair.
Using the finest ingredients, sourced both locally and globally, the flavors at Mesa Bistro are both familiar and exotic. For vegetarians and those with specific dietary preferences, the restaurant offers a range of options, ensuring that every guest's palate is catered to.
Wine and Dine
One of the highlights of dining at Mesa Bistro is their extensive wine list. Handpicked by their in-house sommelier, the selection ranges from classic French Bordeaux and Italian Pinot Grigio to New World wines from South America and Australia.
Whether you're a wine connoisseur or a casual drinker, the staff at Mesa Bistro will guide you to the perfect pairing for your meal.
6. Frenchy's
Tucked away in a quaint corner of San Pedro, Frenchy's is a culinary oasis for those seeking authentic French cuisine. With its rustic decor, soft jazz music, and warm ambiance, the restaurant transports diners to the charming bistros of Paris.
Classic French Delights
Frenchy's prides itself on its commitment to authenticity. The menu is a celebration of French culinary traditions.
Start with the escargot, tender snails bathed in garlic and parsley butter, a dish that embodies the richness of French cuisine. For mains, the steak frites, a perfectly cooked steak paired with crispy fries, is a must-try.
And of course, no French meal is complete without dessert. The crème brûlée, with its creamy custard base and caramelized sugar top, is a sweet ending to a delightful meal.
A Wine Lover's Paradise
Complementing their exquisite dishes is Frenchy's extensive wine list. From the vineyards of Burgundy to the rolling hills of Champagne, the selection showcases the best of French wines.
Whether you prefer a robust red or a crisp white, Frenchy's offers a wine to elevate your dining experience. At Frenchy's, every meal is a journey through the rich culinary landscape of France, right in the heart of San Pedro.
FAQ
What is the average price of a meal in San Pedro?
The average price of a meal in San Pedro, Belize ranges from $10 to $50 per person. However, there are many restaurants that offer more affordable options.
What are some of the best dishes to try?
Some of the best dishes to try in San Pedro, Belize include fry jacks, stewed chicken, rice and beans, ceviche, tamales, and cochinita pibil. These dishes are all representative of the diverse culinary heritage of Belize.
What are some of the best things to do in San Pedro besides eating?
Some of the best things to do in San Pedro, Belize besides eating include visiting the Hol Chan Marine Reserve, snorkeling or diving the Great Barrier Reef, and exploring the town's many shops and boutiques.
What is the best time of year to visit the town?
The best time of year to visit San Pedro, Belize is during the dry season, which runs from December to April. During this time, the weather is warm and sunny, and the crowds are smaller.
How can I get to San Pedro?
There are several ways to get to San Pedro, Belize. The most common way is to fly into the Philip S.W. Goldson International Airport in Belize City and then take a water taxi to San Pedro.
There are also direct flights to San Pedro from some major cities in the United States and Canada.
What is the dress code at the best restaurants?
The dress code at the best restaurants in San Pedro, Belize varies. Some restaurants have a more casual dress code, while others have a more formal dress code.
It is always best to check with the restaurant in advance to see what their dress code is.
Final Words
San Pedro's culinary scene is diverse and rich, offering something for every palate. Whether you're in the mood for local Belizean flavors, international cuisines, or a mix of both, San Pedro won't disappoint.
So, the next time you're in this beautiful island town, make sure to explore its culinary gems and treat your taste buds to an unforgettable experience.